You Get
Maximum

Value,

 Stress Free!

We'll improve your home - you get more.
You get more! Here's how:
We establish current value by licensed Appraiser. You get two payments. Sweetly pays 75% of current value on the moving day you choose. Then we invests up to $25,000 in the upgrades that you approve - designed to increase the resale price. We'll manage a professional MLS® listing, and once re-sold you get the FULL balance of the highest (increased) sale price, less our fee. Choose your moving day. Skip public showings and net the After Renovation Value, right from the comfort of your couch!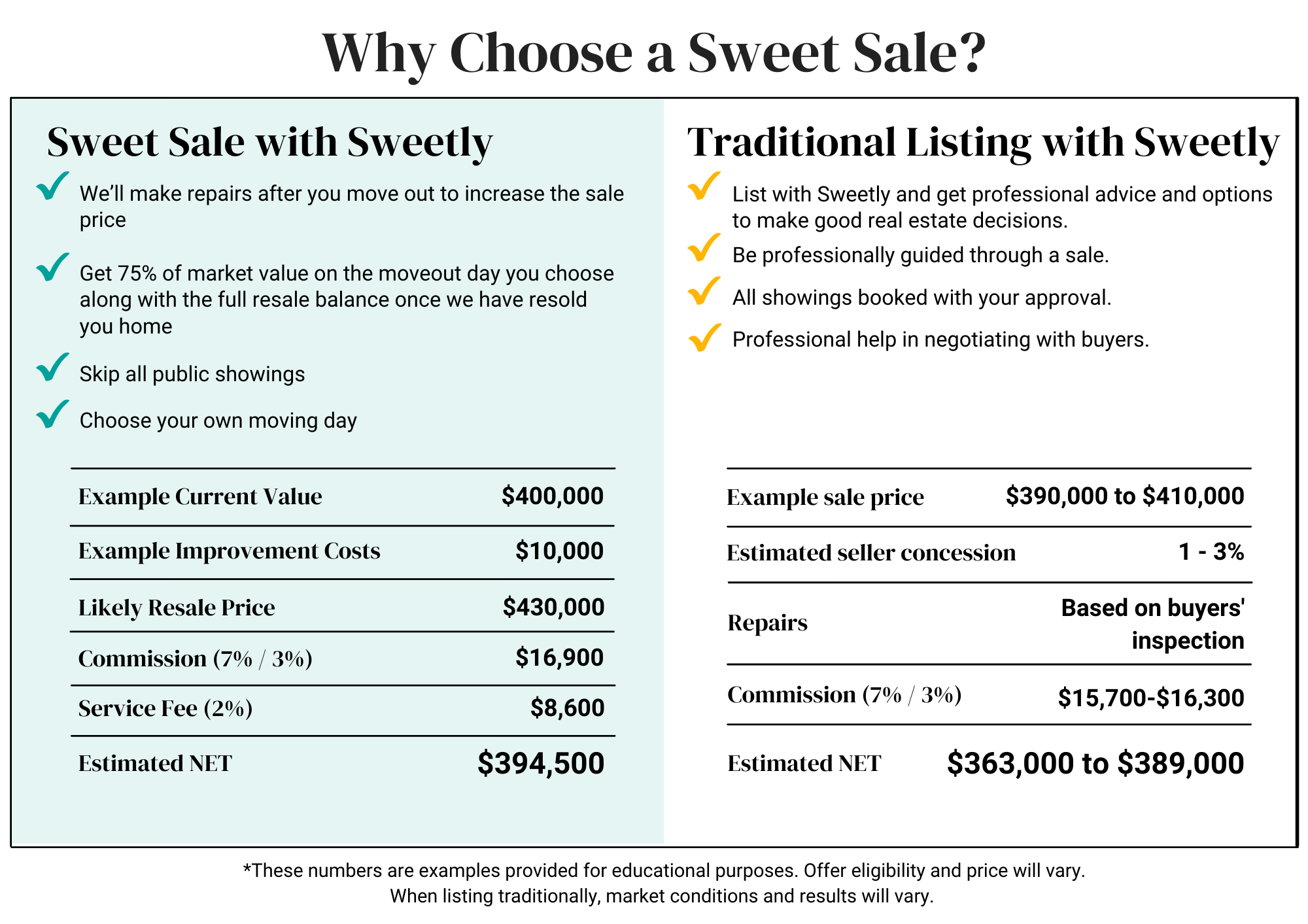 You get MORE money from a Sweet Sale
Sweetly makes the right improvements to increase the re-sale price.
We invest our money (up to $25,000) to improve the property - with your permission.
You get the full value of the re-sale price (even if over asking) less our hard costs for improvements and our fee.
Skip Public Showings
With a Sweet Sale, the showings start after you've moved out.
You choose the day. Sweetly buys your home on your schedule.
Unlike a permanent buyer, we don't live there so Sweetly takes the home whenever it works for you.
Choose your own moving day
Select the moving day that works best for you, alligned with whatever is next.
Changes to your moving day are no charge and hassle-free.
We sell your home vacant and the next owner can move in whenever, so possession day never conflicts with price.
Certainty
Sweetly offers are unconditional within days.
Buy your next home in confidence and avoid paying more with cluttered 'subject-to-sale' contracts.
We buy single family homes valued at $200,000 to $2,000,000 in any major Alberta market.
What Sweetly customers are saying!
Compare Sweetly
Only Sweetly assists with the entire selling and buying process by actually buying your current home on your schedule. The certainty of a sale for your current home lets you make a more compelling offer on your next home without a condition-of-sale.
| Benefit | Sweet Sale | Traditional listing |
| --- | --- | --- |
| Skip public showings. | ✔ | No |
| Choose your own moving day. | ✔ | Not likely |
| Up to $25,000 in improvements. | ✔ | No |
| Get 75% of market value on moveout day, balance on resale. | ✔ | No |
| No ownership costs once you move. | ✔ | No |
| Firm sale commitment within days. | ✔ | Hardly ever |
| Commission ** | 7/3 | 7/3 |
| Service Fee | 2% | ? |
** Commissions are fully negotiable by law and not set by any industry association. 7% of $100,000 plus 3% of the balance of sale price is the most common commission rate in our marketplaces based on our research.
Sweet Sale Questions and Answers
Sweetly is a blend of real estate, finance and technology. We use our money to make your process easier and less risky.
What's the cost of a Sweet Sale?
The Sweet Sale is the SMARTEST WAY to sell a house! Our fee to buy and resell your home is 2% of the value of the property plus our standard real estate commission (7/3) or 7% of $100,000 plus 3% on the balance of the sale price. The extra 2% covers the expenses we take on, like property tax, utilities, insurance, lawn/snow care, and mortgage payments. The fee is fixed and never increases regardless of how long it takes to sell the property.
We get this question every day — actually. There's really no catch! The Sweet Sale is NOT a buy low sell high model, so we don't 'low-ball'. With a Sweet Sale you get ALL the equity from your (fully renovated and ready to sell) home. You benefit from having us make the right improvements to sell your home for the highest price possible. Our Sweet Sale process is simply the easiest and smartest way to sell a home for the most money possible AND avoiding the stresses of public showings. The difference is more money for you, and the convenience of no public showings.
Who gets the extra money if Sweetly re-sells my home for more than the original value?
You do! We re-sell homes for more than the original value by design of the Sweet Sale. It's because we make the right improvements that we know buyers can't resist, so our re-sales often sell for more than the original evaluated amount. You get that money! We only keep our fee (and our contractor costs for any improvements). You get the full balance of the resale price.
Is the Sweet Sale program available to me if I'm already listed with another REALTOR®?
Yes, you can consider our offer through your current listing brokerage. We normally re-list the property with the same REALTOR® and we pay 1% of the value which is roughly half of what most full service REALTOR®s charge.
Who controls the asking/sale price once Sweetly puts the house for sale?
You do! Sweetly will list the house at the pre-determined value and we don't accept any offer of less than 97% of that evaluation, without you're permission. If we feel a price reduction is necessary we'll tell you, and you can decide to either allow a reducton to attract more buyers, or leave it for sale at the same price – you're in control for the first 30 days of our listing. If the home is not selling within 30 days, we'll adjust the price at our discretion to attract more buyers.
How can I be sure that I'll get the second payment?
Your second payment is protected by a caveat registered on the title of your home which requires us to pay you before we can sell to anyone else. It's the same level of protection a bank gets when they lend money on a property in the form of a mortgage.
How do I know that Sweetly will seek the highest sale price?
Sweetly is the only Brokerage in Canada that buys and re-sells your home in a fair way. Our goal of getting the highest sale price is aligned with yours! We always seeks the highest price, and we commit to only accept offers no less than 97% of the original evaluation we provided to you. If for any reason, we can't get to within 97% you'll be consulted. We even give you the right to buy back the house by simply retuning our money any time before we've accepted an offer from anyone else.
Can Sweetly help me buy my next home, before I sell my current home?
Yes, Sweetly is a full service brokerage. We'd be happy to activate a free homes search based on your buying criteria. We'll show you any home for sale and when you find the right one we'll help you make an informed offer by showing you what the home last sold for (if available) and the recent comparable sales for the area to help you make good real estate decisions. Once you have a firm purchase Sweetly will buy your current home on the date that makes the most sense for you!
How fast will I receive my offer?
You'll have our offer on the same day we see the property.
Do I get to choose my own closing date?
Yes, you get to choose a date that works for you which is materially different than selling your home to a traditional buyer that may need the home on a date that works for them.
Is the offer I get subject to commissions?
No. You don't pay commissions when you sell to us. We make our money from the service fee we charge against the resale which includes commission. IF YOUR HOME IS LISTED WITH ANY OTHER BROKERAGE you can still get our offer, but only through your current brokerage.
How do the improvements I made affect the value of my home?
Improvements, additions and renovations are important factors for us to consider when determining the current value of your home as compared to others for sale or sold. Please tell us about them and include as many pictures as possible.
Where are you currently buying homes?
We are currently buying homes in Edmonton, Red Deer, Calgary, and other major centers in Alberta.
What types of homes are you buying?
We're currently interested in buying single family homes of 850 square feet or more, with 2 or more bedrooms above grade. The homes we buy must have a value of $200,000 and up. Some exceptions can be made and all deals are carefully considered.
What types of homes will you absolutely NOT buy?
Homes we buy must be vacant on possession date. We cannot assume any tenancies. We can't buy any homes that require significant work such as foundation problems, etc.. We also cannot buy a mobile home or other type of property that doesn't include title to land or a city lot. At this time we are not buying most condominiums, or commercial property, and some smaller communities throughout Alberta.
Is this a Guaranteed Sale program?
NO! A Guaranteed Sale is a gimmick some agents use to get your listing. Sweetly provides a clean offer and an actual sale - NO LISTING required. Guaranteed Sale programs require you to list the home for a period of time, then if the brokerage buys the home and resells it for more they keep the profit. That's not Sweetly.
Should I include photos of my home?
YES! We consider every home carefully and photos help us understand the condition and unique appeal of your home. Send photos!
Our offer is valid for however long you want, but stale dated offers will be re-visited to ensure we are paying current value, and where the market has shifted substantially, we may just withdraw a stale offer.
How long will the selling process take?
We can move as fast as you need us to. Typically we need about 10 days to do our inspection of the home and finalize our commitment to you. We can move faster if necessary. You'll get your first payment on the possession date you choose.
What happens to my house after you buy it?
We'll do any improvements needed (which you agree to in advance) to ensure the home shows its best and sells for maximum value. We take photos and measurements, introduce the home to the buying public, post the home on the MLS®, hold open houses, book showings, deal with agents, buyers, inspectors and appraisers. We negotiate with buyers and re-sell the home on the open market. Basically, we do all the work, pay for all the holding costs and handle all the stress associated with selling a house.
Is my information secure?
Yes, we don't discuss or disclose your reasons for moving, nor will we disclose your home selling price until after a firm (unconditional) commitment is received. We may share your contact information with other top agents in your community to reassure you that our offer is at current market value. You're under no obligation to anyone and you may proceed with your sale as you see fit.
How do you determine the price you'll pay?
Our offer is based on the expected market value. We determine the current value of your home by direct comparison to other recent sales in your area, or we can use a recent appraisal if you have one.
How does my offer compare to actual market value?
Our offer is based on Current Market Value of your home!
Do you negotiate on your offer price?
Yes, If you feel like we've missed something about your home that makes it worth more than our offer price please bring that to our attention, we'd be happy to revisit our offer.
Can I change the possession date after we sign?
Yes, it doesn't matter to us when we close so if you need more time just let us know and we can make that change.
Will you want to see my house in person?
Yes. We'll want to see your property in order to make you an offer.
Who does the inspection on my home?
We use certified home inspectors.
What happens if the inspector finds problems in my home?
Don't worry. We are not a nervous buyer. Home inspections most often (actually always) yield some kind of deficiency or maintenance requirement. Once we know what those are we'll review them with you and discuss possible remedies if needed. If there's something seriously wrong with your home (like a faulty foundation) we'll likely need to pass on buying your home as we simply don't have the resources to deal with substantial issues of that sort.
When will I need to move out of my house?
You'll need to provide clean, vacant possession on the closing day of your choosing.
Can I take any appliances?
Yes, but please note that all of the appliances (Chattels) listed on the contract need to stay with the home. These will normally include the Fridge, Stove, Hood fan, Washer and Dryer, Window coverings, Garage door opener and remotes, built in speaker systems, closet organizers, etc. If any of these items are important for you to take with you, you'll need to ensure they are not included in the sale.
What if I have more questions?
Call us! Our number is 780-477-9338.